Deuteronomy 6:5-7
"You shall love the Lord your God with all your heart and with all your soul and with all your might. These words, which I am commanding you today, shall be on your heart. You shall teach them diligently to your sons and shall talk of them when you sit in your house and when you walk by the way and when you lie down and when you rise up."
This last Sunday, Pastor Obie and his father preached a Father's Day message to the congregation. The definition of "father/parent" is: "He that produces young. The duties of parents to their children are to maintain, protect and educate them." Being a "father" is so much more than just being "the provider". The Father is the priest of the home. In 1 Timothy 3:1-4 it says, "If anyone aspires to the office of overseer, he desires a noble task. Therefore an overseer must be above reproach, the husband of one wife, sober-minded, self-controlled, respectable, hospitable, able to teach, not a drunkard, not violent but gentle, not quarrelsome, not a lover of money. He must manage his own household well, with all dignity keeping his children submissive." The father is the leader and overseer of the household, mentally (heart), spiritually (soul) and physically (might). Fathers invest your time and pray. Philippians 4:6 says, "Do not be anxious about anything, but in everything by prayer and supplication with thanksgiving let your requests be made known to God.
Proverbs 22:6
"Train up a child in the way he should go, even when he is old he will not depart from it."
1. Be wise in your spiritual and physical health. Be a godly model to others. But, you cannot lead someone to where you are not already present. You have to know the Lord, your God, His holy Word, Will and Way, in order to lead others to Him. Ultimately, God is the Provider. Keep your body in good health because "health is wealth." It you do not have good health, then all your wealth is useless. A workaholic is an absent husband and father. Your family, friends, neighbors and acquaintances need you and your godly guidance. Be there for them.
Hebrews 12:8-10
"But if you are without discipline, of which all have become partakers, then you are illegitimate children and not sons. Furthermore, we had earthly fathers to discipline us, and we respected them; shall we not much rather be subject to the Father of spirits, and live? For they disciplined us for a short time as seemed best to them, but He disciplines us for our good, so that we may share His holiness."
2. Be wise with your time. The 1828 Webster's dictionary defines the word "time" as: A particular portion or part of duration, whether past, present or future. One rotation of the earth is a 24 hour day in duration time. The earth rotation around the Sun is 12 months in duration time. Time is primarily equivalent to season; in its original sense, opportunity, occasion, a fall, an event, that which comes. Will our lifetime be well spent? Time is of the essence because the most important commodity in life is time. American Founding Father Benjamin Franklin said, "You may delay, but time will not." There is wisdom in managing time. Make better use of your valuable, yet limited, time because lost time is never found again.
Luke 11:11-13
"What father among you, if his son asks for a fish, will instead of a fish give him a serpent; or if he asks for an egg, will give him a scorpion? If you then, who are evil, know how to give good gifts to your children, how much more will the heavenly Father give the Holy Spirit to those who ask him!"
3. Be wise with how you live, for it will be the legacy you leave. A graveyard tombstone only states your name, your birth day and your date of death with a dash in between to signify your life and accomplishments this side of eternity. British preacher, author, pastor and evangelist Charles Spurgeon said that a good character is the best tombstone. Your life's legacy is curved into the hearts of your family. In John 10:10, Jesus says that the thief (the flesh, the world and the devil) comes only to steal and kill and destroy. I came that they may have life and have it abundantly. Life is short; the kids grow up quickly and we all age with every passing season. Don't waste a minute.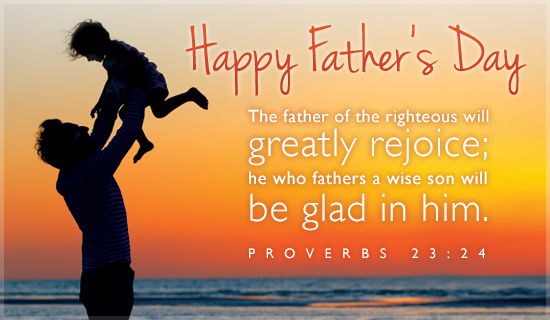 Ephesians 6:4
"Fathers, do not provoke your children to anger, but bring them up in the discipline and instruction of the Lord."
The seasonal stages of parenting a child to adulthood have been categorized as (1) loving discipline, (2) training, (3) coaching, and (4) friendship. Learn to listen; really listen. Live the abundant life in Christ to the fullest. Be there for your family and do not miss a moment. You never regain lost time. Be a good father. The "goodness" and the "godliness" is passed down generationally. The most important legacy is to lead others to Christ and God's family. Live and teach the love of God in the gospel of Jesus Christ. This is true wisdom from the Father.
1 John 2:14-15
"I have written to you, fathers, because you know Him who has been from the beginning. I have written to you, young men, because you are strong, and the word of God abides in you, and you have overcome the evil one. Do not love the world nor the things in the world. If anyone loves the world, the love of the Father is not in him."