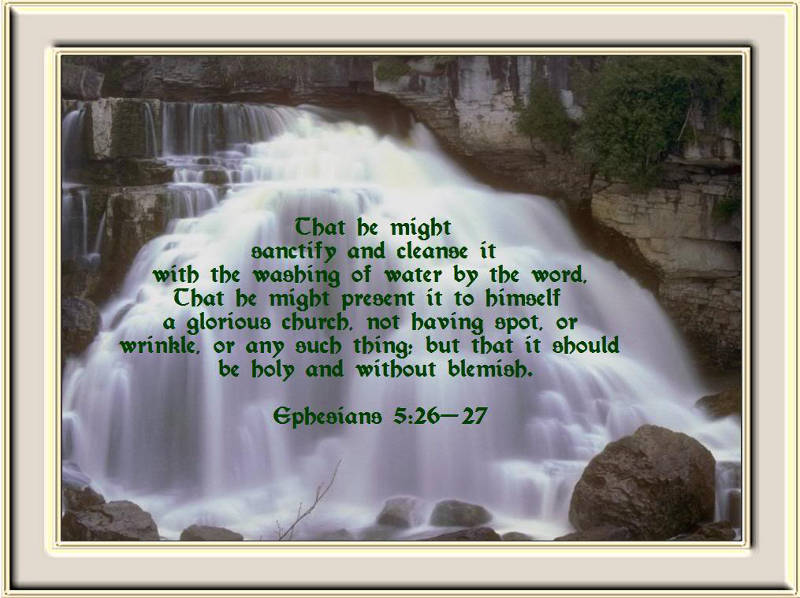 Ephesians 5:26
"That He might sanctify and cleanse her with the washing of water by the word."
I used to listen to the "Through the Bible' radio ministry of the late Dr. J. Vernon McGee on the way to work and learned a tremendous amount about the Word of God and its application in my life as a Christian. This five year program, that continuously repeats, has helps millions in their faith since its beginning till today. From one portion of his edited notes on Leviticus 8, Dr. McGee writes how Moses brings Aaron and his sons to the laver for washing. He gives them a bath, if you please. This signifies that they are to be holy, pure and clean if they are to serve the Lord. They have already been to the alter for forgiveness, but they need cleaning.
Hebrews 10:22
"Let us draw near with a true heart in full assurance of faith, having our hearts sprinkled from an evil conscience and our bodies washed with pure water."
A great many people today say they are qualified for service because they are saved. Now it is true that salvation is the prime requisite, but for service one must also be cleaned.
Titus 3:5
"Not by works of righteousness which we have done, but according to His mercy He saved us, through the washing of regeneration and renewing of the Holy Spirit."
McGee explains that the holy spirit renews us as we go along, but we need a washing from the Lord. With what does he was us? What is the cleansing agent? It is the Word of God. That is what cleanses us. The Lord said that His disciples needed to be washed because their feet were dirty. They all had a bath; that is, they all had been saved (except Judas). But they all needed their feet washed so that they might have fellowship with Him.
1 John 1:9
"If we confess our sins, He is faithful and just to forgive us our sins and to cleanse us from all unrighteousness."
How do we get that washing? It is by confession that we are forgiven and cleansed. Do you want to be used of God? Then go confess your sins, dear Christian. That is the first step. This is God's way. This is His command. We either must do it His way or we cannot be of service. He has His way of doing things and we need to learn and obey His ways.
From "Edited Messages of Leviticus" by Dr. J. Vernon McGee